Every girl loves diamonds-I don't think anyone would protest against that statement! Recently, I began to think about what my engagement ring would look like: Would the diamond be too small or too big? What style do I really like the best? Would it be gold or silver? I really never had my "dream engagement ring" picked out like some girls do. Trying to be realistic about cost, I began to look at diamond rings last week when I was waiting for a ring of mine to be cleaned at the jewelers. Of course a 1 to 3 carat diamond would be ideal to most any girl but the cost of a quality diamond that size is out of my boyfriends budget. Call me crazy, but after that day of looking at rings, I came home and started looking at different styles online-just so I knew what I liked. I instantly fell in love with rough diamonds! No, they don't sparkle and shine like most diamonds do, but they are unique and artsy looking-just my style!
This cluster ring is absolutely gorgeous, combining rough diamonds with cut diamonds...but don't get your hopes up ladies-it is already sold...but still fun to look at!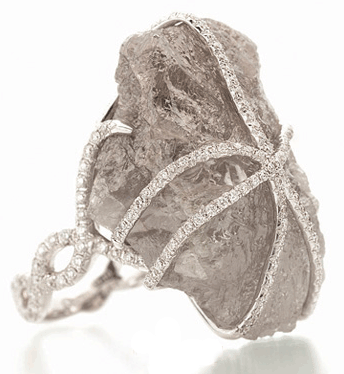 This also combines a LARGE rough diamond with small cut diamonds to still give it that wow factor and make it shine.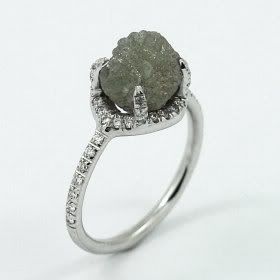 I don't know that I would like a rough diamond to be this dark of a color for an engagement ring, but I like the modern style combined with the rough diamond. It is made by this Etsy artist, and can be customized with a different stone.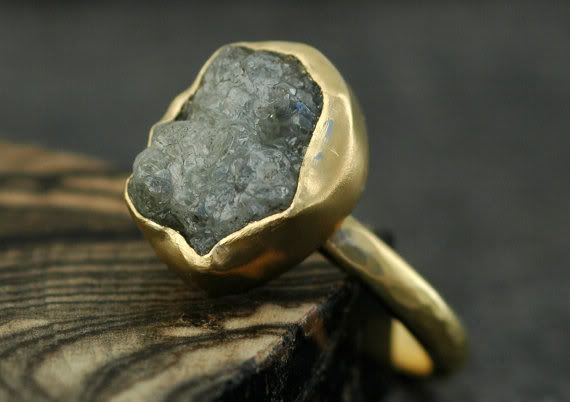 I love the way this ring was handmade because it is different than the others I saw and is mounted in the gold instead of with prongs.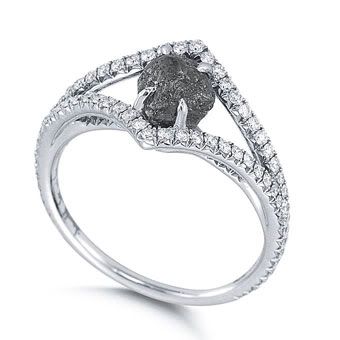 This Victorian ring is a unique setting, but can still be pricy once you get the exact size and color rough diamond you like. The designer of this ring has other really cool designs...Check it out!
The rough detail of the silver creates a look that is unforgettable! The only downfall is this is not a diamond but a citrine.
Last but not least, is my favorite one of all [once it is customized]. This ring is by an artist on Etsy. She can customize the ring to be made of any material (white, yellow or rose gold), any size diamond, and in a matte, hammered or polished finish. The diamonds pictured below are ones she has to choose from. I would want a large diamond with 18k gold, but I am unsure if I prefer the matte or polished finish.
What is your "dream engagement ring"?